AUBURN, Ala. – Every Alabama family needs to prepare for severe weather. In a single year, the gamut of extreme weather may range from tornadoes in the spring to violent thunderstorms and flash flooding in the summer to fall hurricanes and ice storms in the winter.
The Alabama Cooperative Extension System has a new iBook to help families, businesses and communities prepare for storms and clean up after they pass. The Emergency Handbook is a comprehensive resource for emergency planning, preparation and storm recovery. It is available as a free download from iBooks.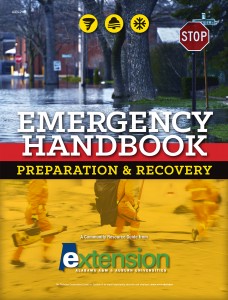 Alabama Extension Director Gary Lemme said this community resource guide was prepared specifically for Alabama by Alabama Extension in partnership with WSFA-TV.
"The Emergency Handbook is filled with resources and information that connect to every family, business and community in Alabama," said Lemme. "Built on research-based knowledge from Auburn University and other land-grant institutions including Clemson University, the University of Florida and Mississippi State University, it also draws on resources like the Extension Disaster Education Network (EDEN) and the Federal Emergency Management Agency (FEMA). Quite simply, it is the best of our information, intended for you to use during the worst of situations. "
Chance Corbett, Auburn University associate director of emergency management added the Emergency Handbook will help residents be proactive in their emergency planning.
"The best way to protect our families, our pets and our homes is by preparing ahead of time," said Corbett. "The Emergency Handbook is built on Alabama Extension's proven resources and augmented with material from FEMA, EDEN and land grant partners in other states.
Kathy Carson, director of the Lee County Alabama Emergency Management Agency called the Handbook an exciting resource for citizens.
"Alabama Extension's Emergency Handbook is extensive and thorough," said Carson. "It is well organized for reference during a disaster or emergency. I highly recommend this as a valuable addition to existing emergency plans and to assist in creating new ones."
WSFA-TV's Chief Meteorologist Josh Johnson said some people might wonder why the Emergency Handbook is a digital resource.
"Truthfully, most of us don't go anywhere without our phone or our tablet," said Johnson. "It just made sense to put this resource where it would be in people's hands all the time."
 Emergency Handbook Topics
The Emergency Handbook contains more than 100 pages in four broad categories including People and Pets, Home and Business, Landscape and Garden, and Farms and Livestock.
Preparation
Stock the basics for emergencies
Caregivers guide for sheltering and evacuating
Caring for pets during storms and evacuations
Helping children cope
Food storage charts – indicating how long food is safe to eat after the power goes out
And more…
Recovery
Personal safety after a storm
Threats from Fire Ants, snakes and other wildlife after a storm
Reentering and cleaning up a flooded home
Recovering family treasures
Saving damaged trees
And more…
Handbook Videos
While Alabama Extension developed and refined much of the Emergency Handbook's content, WSFA-TV's team led by Johnson created graphics and short videos to add depth to the book's overall content.
"Sometimes the best way to convey information is not through the written word, but through conversations," said Johnson. "The video elements in the Emergency Handbook allow us to communicate more directly with people."
Feature Videos
Alabama's Wild Weather
Lightening is Frightening
Hurricanes in Alabama
Preparing for Evacuation
Flooding Can Be Deadly
Electric Generator Safety
Lemme called the partnership with WSFA a "natural fit."
"Alabama Extension is a trusted source of information. WSFA-TV is one of the state's most watched television stations, and citizens rely on its weather team when severe weather strikes."
Lemme encouraged Alabamians to bookmark the Emergency Handbook website and to download the book to their iPads. The first section of the handbook is focused on advanced preparation so concerns about Internet connectivity and battery life are not as relevant.
Johnson agreed people should use the handbook now to prepare.
"The best time to prepare is when skies are clear and there is no threat on the horizon," he said. "With the Emergency Handbook available online and as an iBook, people can have it with them as they shop for emergency supplies and to help them create their family emergency plans."
Lemme said that as Alabama Extension professionals develop new emergency preparedness and recovery information it will be added to The Emergency Handbook.
"That is truly one of the most exciting elements of the iBook concept," he said. "People who have downloaded our Handbook will be notified when an updated version is available."